We make "It was desirous" of a modeler all over the world!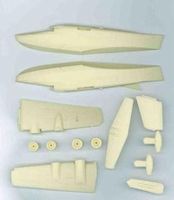 A maker born by the resin kit manufacture of Hong Kong, ANiGRAND CRAFTSWORK company and a collaborative project by Japanese model kit import agency WiLLING Co.,Ltd. is the "A&W Models".
The no firing urethane resin is thrown from the metal mold into the type not the built model but made of silicon to begin with like the injection kit (plastic model), it stiffens, and it is called a resin kit. A model manufacturer all over the world is making an airplane, a tank, a ship, a car, and various items a kit because it doesn't need an expensive metal mold compared with the injection kit by an original industrial method. However, the few one is the facts in the item still manufactured only for the model market in Japan.
Therefore the world wide resin kit import agency WiLLING Co.,Ltd. (also regular import agency of the ANiGRAND CRAFTSWORK in Japan) thoroughly investigates the airplane which is not yet made a kit, and a plan draws up original article constitution for Japanese markets. And, strong tag was united by requesting manufacturing from the ANiGRAND company of which high technology had commercialized an elaborate airplane made of resin model up to now, and it became portable the start-up of a new model manufacturer named A&W Models (ANiGRAND&WiLLING).
It makes though the elaborateness of the detail is a resin kit of the charm and a lot of time and the cost hang in the development of a new product as for it is necessary to crowd and large-scale the scale model. Then first of all in A&W Models, the supply of the product of ..constant to the model specialty store externals.. is handled from the airplane series of 1/144 scales. I think the number of parts and moderate easiness to assemble and the price class of 1/144 scales also for resin kit beginner & disciples to be able to take readily, and for you to be able to satisfy it. In the future, I want to straighten the system that can be answered the voice of the demand of making to the kit from everybody of the modeler, too again.
The airplane also has various histories, and there are still a lot of airframes of the trying and erring propman to reach the completion of an airframe active in an efficient, brilliant table stage at last. Now, let's complete thought of then developer and engineers with a kit of A&W Models!
Copyright(c),2010 A&W Models All Rights Reserved.